Last Updated on October 30, 2023 by Kundan Sharma
Do you have a fashion lifestyle blog or have recently started o
n
e. Now looking for some good affiliate programs for your fashion blog to monetize through affiliate marketing.
So, I have created this article and added some best affiliate programs for lifestyle bloggers which are mostly used in the industry.
You can join them and you'll be able to find some good fashion lifestyle products which you can promote through your blog to make money blogging.
Note that, there are a lot of ways to earn money from a blog such as AdSense, Sponsorship, Courses, and many more.
Affiliate marketing is one of the best ways to make money from a blog, where blog readers buy products and services through your affiliate link and you get a commission from the merchant.
More than 80 percent of businesses have their own affiliate program to boost business revenue. I personally monetized this blog from more than 150 affiliate products which help me to make decent money every month.
So, only promote genuine
 products
on a blog which are you think is useful for your readers and good for your credibility.
If you don't know much about affiliate marketing then read this below-given article.

Top 6 Affiliate Marketing Programs for Fashion Bloggers

1. ShareASale
ShareASale was started in 2000 it is a popular service marketplace where you ca
n joi
n
the affiliate programs of different brands.
This is the best place for affiliate marketers to find new affiliate products.
They provide various types of products including fashion and lifestyle.
If you want to make more money from your fashion blog then I highly recommend you should try ShareASale affiliate program.
They have partnered with more than 3500 brands like Zara, Adidas, Nike, and many more.
It is very easy to join ShareASale you only need to add some personal and your website details at the time of sign up.
Note that, first you must have some article would be posted on your site before applying for ShareASale affiliate program, because if they find your blog is not adding value to their interest, may reject your affiliate application.

2. Impact Radius
Impact Radius is another high-paying affiliate network that has all kinds of product affiliate programs. There you get the fashion products too.
If you looking for genuine high-quality affiliate products for your blog readers then this affiliate network is for you. The commission rate depends on brands, normally the range is between 2% to 10% of the sale amount.
It has categories of affiliate products like Travel, Shoes & Accessories, Sport, Outdoor & Fitness, and more that suit your fashion blogging niche.
Well, the payout method is very easy they automatically send you earnings every month to your bank account.

3. ClickBank
Clickbank is one of the oldest affiliate programs which have been working for the last 17 years t
hat's why this is one of the trusted affiliate programs.

With ClickBank, you will be able to get Commission up to 75% which is really high even higher than some other affiliate programs.

You can choose the products that you think are good for your blog users.
Clickbank provides advanced analytics so you will have access to detailed data about impression clicks and sales.
4. Amazon Associates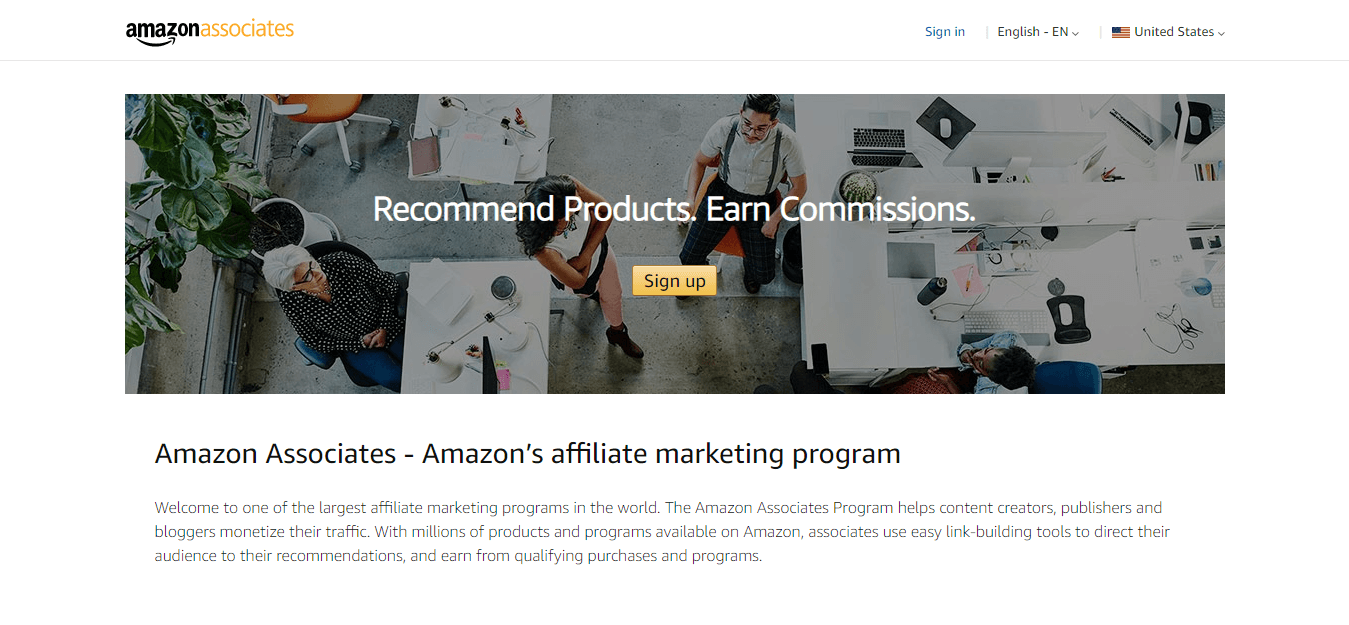 Amazo
n
is the world's biggest E-commerce website that sells thousands of fashion and lifestyle products.
As a Blogger, you can join the Amazon Associates program and promote their products on your blog.
It is very useful to promote Amazon products online because it is a trusted company and people know about it.
There are lots of bloggers and marketers in the lifestyle and fashion niche making thousands of dollars every month from Amazon associates.
You will be able to get between 4% to 10% Commission on every sale you made the commission rate depends on the products.
Amazon also provides promotional materials like product images and text links which help you to make more sales through your blog.
When you first sign up with Amazon affiliate program for the next 3 month they will monitor your account and check how much sales you could drive within the 3 months.

These given periods of time you must have to make at least some sales, otherwise, your account will be suspended and you will no longer Amazon affiliate partner.
But as I mentioned, it is very easy to make affiliate sales on Amazon because people like to buy products from Amazon.
You only need to refer some genuine buyers to Amazon.
5. FlexOffers
When it's come to lifestyle fashion products FlexOffers partnership with some good brands. You will get new and unique products there.
They also provide new features and designs which make thi
ngs
easier for the publisher. 
When you first land on the FlexOffers dashboard you will be able to see your campaign and performance.
You can also see the reports and stats of your affiliate campaign.
The best thing with FlexOffers affiliate is you will get personal support. If your blog getting Global traffic then you should join an affiliate program like this.
There are so many possibilities with FlexOffers and they also give a high commission on each sale compared to Amazon associates.
6. CJ (Commissio

n Junction

)
Last but not least, CJ is another good affiliate marketing program for a lifestyle fashion blog.
Commission junction has a wide range of top recognizable brands easy to find reliable products that have trustworthy too.
You will have the choice to promote some cool fashion brand products which increase your earnings.
CJ gets you some useful tools insights and Analytics, Ad and Content Monetization Suite, Cookie Tracking, and many more.
Which helps your blog to earn more.

Conclusion
I have listed the 6 best affiliate programs for fashion bloggers which help you to make more money out of your blog. I have personally used ShareASale, Amazon Associates, and CJ to monetize my blog traffic.
You can join them depending on what affiliate programs actually you want to use. Keep in mind that promote only valuable products that you think are useful for your blog readers.

If you want to promote high ticket affiliate programs for higher commissioner value, then ClickBank affiliate is a good option for you, some of their listed products give up to 80% commission on sales amount.

Let me know which affiliate program you use in the comments below.
Hi, I am Kundan Sharma Founder of this blog Blogging Spark. I'm a passionate Blogger and Digital Marketer. Who share useful content that helps you to build a profitable Blog to make passive income online.